Wow. 
We are so excited to share this painting with you!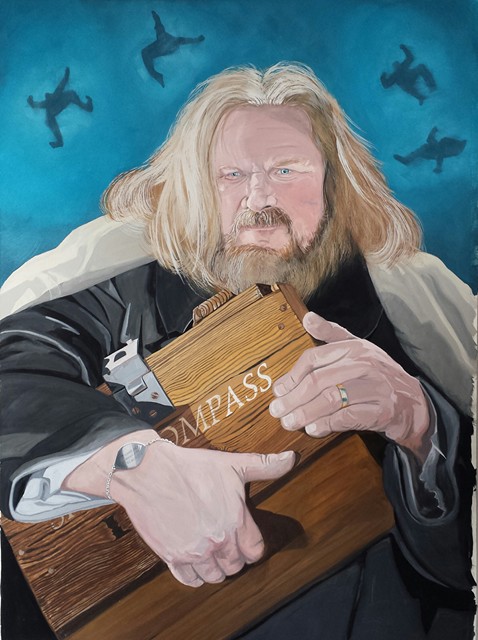 This stunning painting is from our amazing, talented friend, Seimon Pugh-Jones.
We met Seimon and Min several years ago, through our friends Tommy Parham and Tia McGraff. 
This past spring, before our trip to the UK, Seimon asked if Tom would model for a huge project he was working on. Of course Tom said yes! While we were at the Tin Shed, Seimon took some photo's of Tommy for this project and he graciously took a few of both of us.  
The project is 'Under Milk Wood' based on the 'radio drama' then movie by Dylan Thomas. 
From Seimon: 
'Tom Fred the Donkey man. My 'model' is Tommy Harden.Top blokey and brilliant drummer. 
Check out 'Lost Hollow'..from Nashville, fantastic band!!..Thank you again Tommy for being part of my 'Under Milk Wood' project.' 
This painting is number 17 in this stunning series.  You can see some of the other works on his website. 
Please, check out Seimon's site and the other paintings and the brilliant work that he does here on his website. 
If you have the chance to travel to the UK, or live in the UK, you MUST make a trip to Wales.  It's a gorgeous country.  The people are the best!  If you go, a must is Laugharne, It is where Dylan Thomas lived.  A quaint town, full of character.  
Then head to the Tin Shed, a 1940's museum and venue.  Tell Min and Seimon that Tommy and Lorrie sent you!  
You will be glad you did!  x