Sunday Morning, May 3,  we boarded the plane for NYC, connecting to our flight to Dublin.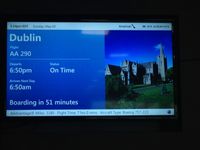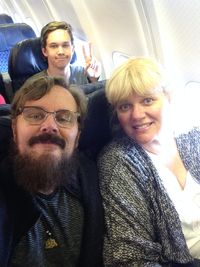 Tom and Taylor and I were finally on our way to Ireland! Months of planning, coming to fruition!    We had our plan.  Once on the plane in NYC, sleep on the flight.  Tommy was out, no problem sleeping.  I, watched the first of 3 movies, then made myself try to sleep, you know, as well as one can on a plane.  Taylor slept as much has he could.  He is not a good sleeper.  We arrived in Dublin at 6:50 AM.  Rented our car.  (Yes, Tommy drove all over Ireland.)  We included a Sat Nav (GPS).  (On our first trip to England,  years ago, we didn't rent a Sat Nav. Didn't want to pay the extra money...We went "Old School" and used an actual map!  Yea, we learned from that.  When driving in foreign country…rent a "Sat Nav"!!)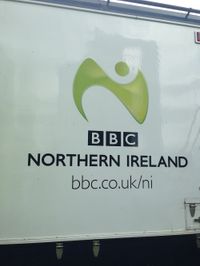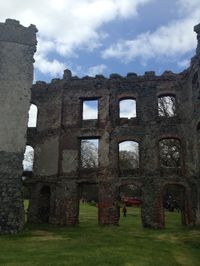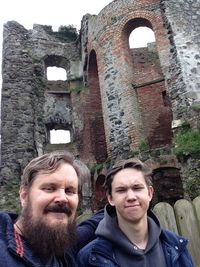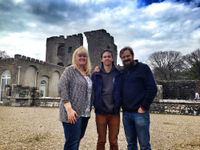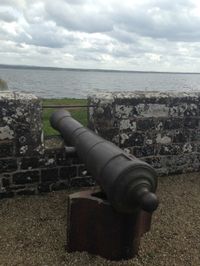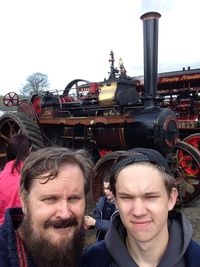 Our first day itinerary, drive up North to 

Shane's Castle, Antrim,to do a few songs with "Uncle" Hugo Duncan, on his radio show on BBC Ulster. 
We left the airport,  first drove to Malahide, to meet Carmel Manion,  Jump the Moon PR, the amazing woman that put this entire Ireland trip together. 
We met at a quaint little restaurant and had our first full Irish Breakfast.
, met 

Carmel and her very cool son Cian.  He is the same age as our son Rowan.

We chatted up a storm, she filled us in on our trip details, gave us our paperwork and after breakfast we were on our way!
The drive was a little stressful. 
First of all, Tom had to get used to driving on the opposite side of the road!  That was stressful for Taylor and I!!   I attempted, for over 30 minutes, to put the 'Shanes Castle' address in our Sat Nav.  It would not accept it.  It would immediately recalculate and ONLY want to take us back to the Dublin Airport.  What???  Fortuantely, we had an actual road map of Ireland from the Rental company.  So, once again, we went "Old School" to get to our first gig.
We made it in time, met our friend and fantastic country artist, Justin McGurk.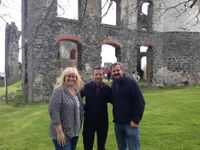 He and Tommy have been 'cyber' musician friends.  How amazing is it to meet our cyber friends in person!! I love it!  We had a blast singing for "Uncle" Hugo"s radio show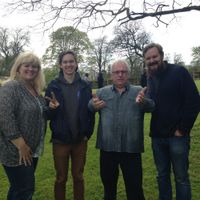 He is fantastic.  Quite a character. 
Then we strolled around the festival for a while, walked around the ruins of Shane's Castle,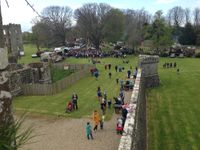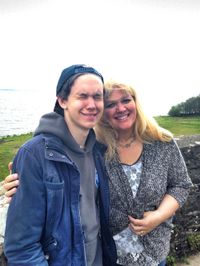 had a little lunch, then had an interview with Sean Green.  Got back in our car and with our road map, drove back to Malahide. 

It was an awesome, long first day!!!