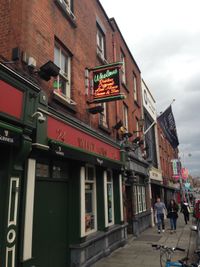 One of my favorite gigs of the entire trip was getting to play at Whelan,s (pronounced like wheel) in Dublin.  For those of you who aren't familiar,
Whelan's
is the coolest indie music club/pub.  For me personally (this is Tom writing this blog) this was a really big deal, because
Glen Hansard
, and the F
rames
are from Dublin.  If you aren't familiar with Glen Hansard or the Frames, then check out the movie
Once.
  I promise you, you'll fall in love with it.  Whealan's is also the club where
Ed Sheeran
played quite a bit.  So naturally I was very excited to play this room.  
When we got there we were helped by Graham, who was one of the nicest people we've ever met.  Graham is one of those rare people who is always happy, always smiling, and was a huge help.  Taylor particularly loved the fireplace, being that Ireland is sometimes chilly, he pretty much stood in front of that for a while.  I of course of was happy with a pint of Guinness. 
We had the amazing
K
athy Crinion
and
Justin McGurk
open the show for us.  They were both fantastic!  Our set was truly magical.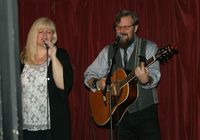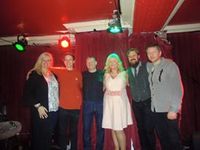 The room sounded amazing and it all went down beautifully.  This night was our very first Irish standing ovation and request for an encore.     From an artist standpoint, this is all you can ask for.  To emotionally touch people to the point where they ask for more when you're done.  Thank you Dublin and Whelan's!!  
One other side note.  We couldn't think about coming to Ireland and not learning some Irish music.  Lor did an amazing rendition of Danny Boy, I was going to try and sing harmonies, but I just got in the way, she was way to good and I felt like I was just a distraction.  We also learned 'Fallen Slowly' by Glen Hansard and Marketa Irglova.  Graham was so sweet, when he found out we were doing the song, he texted Glen and inviting him to come out.  Glen was under a deadline, but graciously told Graham to say hello and thank you. That made the day even sweeter!!  I made Graham forward that text!!!  We are so looking forward to coming back to Dublin and Whelan's next trip!  If you are ever there, Whelan's is a must visit.